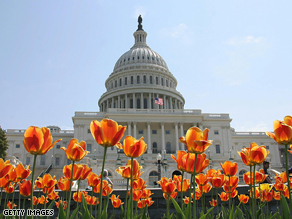 A new poll suggest a majority of Americans welcome Democratic control.
WASHINGTON (CNN) — It was one of John McCain's closing arguments: "We're getting a glimpse of what one-party rule would look like under Obama, Pelosi, and Reid. Apparently it starts with lowering our defenses and raising our taxes," the Republican presidential nominee said repeatedly on the campaign trail in the final weeks leading up to Election Day.
But a new national poll suggests why a majority of voters didn't seem to buy that argument, as Barack Obama beat McCain in the presidential election and the Democrats made major gains in both the House, under Speaker Nancy Pelosi, and the Senate, under Majority Leader Harry Reid.
In the CNN/Opinion Research Corp. survey released Tuesday, 59 percent of those questioned said Democratic control of both the executive and legislative branches will be good for the country, compared with 38 percent saying such one-party control will be bad.
"That much good will from the public opens a window of opportunity for the Democrats," said CNN Polling Director Keating Holland. "But the public expects results, and may not listen to excuses for very long if a Democratic Congress and a Democratic White House can't get their act together in time."
The poll also indicates that the public has a positive view of the Democratic Party, with 62 percent saying they have a favorable opinion and 31 percent an unfavorable opinion of the party. For the Republicans, a majority, 54 percent, said they have an unfavorable view of the GOP while 38 percent hold a positive view.