Most Americans think President-Elect Barack Obama should buy his girls a new puppy from an animal shelter or pound, but there is no widespread consensus on what kind of dog should be the next occupant of the White Doghouse, according to a new CNN/Opinion Research Corporation poll.
Two thirds of Americans say the Obamas should adopt a dog from an animal shelter while just 30 percent favor the next first dog coming from a breeder or a pet store, the new poll said.
Discussing the matter with reporters last month, President-elect Obama said it was his preference to adopt a dog from a shelter, but said the fact that his daughter Malia is allergic could complicate the matter.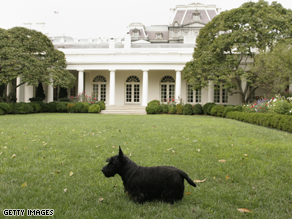 The Obamas are debating what dog will succeed Barney as the White House pet.
"Our preference is to get a shelter dog, but most shelter dogs are mutts like me," Obama said.
But the public's advice on what kind of dog to get is widely scattered (more than 70 different breeds were suggested), with Labrador retrievers topping the list with 13 percent.