It's a position that John Quincy Adams once called downright pathetic: that of a former president.
After all, the process of relinquishing the most powerful job in the world isn't an easy one, especially given the American public's notoriously fleeting attention span and penchant for paying little heed to once-prominent political figures after they exit the public stage.
As the days dwindle until President Bush joins what Herbert Hoover called the "most exclusive trade union in the world," the unpopular commander in chief appears decidedly enthusiastic about embracing a lower profile, recently declaring that he's more than ready to forgo the limelight.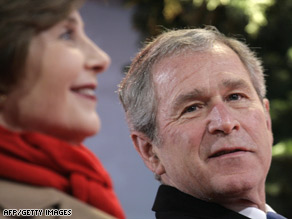 In his post-presidency, George Bush has plans to construct a presidential library and work on his memoirs.
Although ex-presidents in Adams' day quickly descended into obscurity after their years in the Oval Office, today the transition away from serving as the leader of the free world is high-profile, potentially very lucrative and, above all, a difficult job in itself.