President Bush said Tuesday he is "considering all options" in aiding the U.S. auto industry because doing nothing could lead to further economic decline.
"A disorganized bankruptcy could create enormous economic difficulties, further economic difficulties," he said. "I feel a sense of obligation to my successor to make sure there is a not a huge economic crisis. Look, we're in a crisis now. We're in a huge recession, but I don't want to make it even worse."
However, the president noted, it's important to make sure he is not wasting taxpayers' money.
"I'm mindful of not putting good money after bad, so we're working through some options," he said. "What you don't want to do is spend a lot of taxpayers' money and then have the same old stuff happen again, and again and again."
Bush said there was no one person or event to blame for the recent U.S. economic woes. Of the housing and financial markets, he said, "The whole system became inebriated."
"I'm not really happy about the fact there have been excesses in the financial markets which are affecting hard-working people and affecting their retirement accounts. Having said that, I'm very confident that with time, the economy will come out and grow, and people's wealth will return," he said.

The president said he hopes President-elect Barack Obama is pleased with the Bush administration's effort regarding the transition process.
"We care about him. We want him to be successful, and we want the transition to work," he said.
Bush also said he is thrilled to "have a front-row seat in an unbelievable moment in American history. And I was deeply touched by a lot of people I saw on election night with tears streaming down their face and saying, 'I never, ever thought I would see this day coming.' "
Bush said he was sure an African-American would someday hold the office he has occupied for eight years, and he is certain more changes will come.
"I believe there will be a woman president," he said. "I am amazed to have watched Barack Obama come from basic, relative obscurity to now be the president of the United States. And he gives a lot of people hope. And that's good for the country."
Bush also addressed a Sunday incident in which Iraqi journalist Muntadhar al-Zaidi threw a shoe at him during a news conference with Prime Minister Nuri al-Maliki.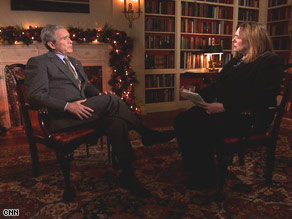 President Bush says he thinks his brother, Jeb, should run for Florida' Senate seat.
"I didn't have much time to reflect on anything, I was ducking and dodging," Bush said.
The journalist was "looking for notoriety," Bush said, adding that authorities shouldn't "overact" in their treatment of him.
"First of all, it's got to be one of the most weird moments of my presidency," he said. "Here I am, getting ready to answer questions from a free press in a democratic Iraq, and a guy stands up and throws his shoe. And it was bizarre, and it was an interesting way for a person to express himself."
He added, "I'm not angry with the system. I believe that a free society is emerging, and a free society is necessary for our own security and peace."
On Iraq, Bush said the decision to go to war was by far the most difficult one he made in the Oval Office.
"I listened to a lot of people, including in my own administration, who said, 'It's just not working. Let's get out.' And I listened very carefully to them. And, obviously, came to a different conclusion," Bush said during a tour of the Oval Office.
While he did not want to revisit his decision to go to war, Bush said, "I have worried about it in the past, in 2006 in particular. In Iraq, I was deeply concerned about whether or not we would succeed."
He has contemplated leaving, he said, but "I could not live with myself if I had chosen to just leave and leave behind the valor and the sacrifice of a lot of our young men and women. I would have never been able to face their loved ones."
On another issue, Bush said his brother, former Florida Gov. Jeb Bush, should vie for the U.S. Senate seat being vacated by Republican Sen. Mel Martinez. He said he did not know if his brother intended to pursue the post, and he said he hasn't raised the idea with his father.
"I haven't talked to my dad about whether or not he wants Jeb to run. First of all, knowing my dad, I bet he would say, 'I want Jeb to do that which is best for him,' and then he would go on to say, 'but if he chose to run, he would be a great United States senator,' " President Bush said, adding, "and he would be."
Bush and first lady Laura Bush will head to Dallas, Texas, after they leave Washington to live in a home the president has yet to see firsthand.
He plans to open up an institute at Southern Methodist University and will write a book he hopes will present a fuller picture of his presidency than perhaps some of his critics have portrayed.
"I would like to share my experiences, and I think it's going to be important for people to remember what the actual history of my presidency was all about. History tends to shift very rapidly; people forget what the environment in which the decisions were made," he said.
Asked whether he was still the same person after being president, Bush said, "I didn't change my basic values."
"I loved my wife then. I love her now. I realize my most important job was to be a loving father, and it is still my most important job. I believed in an almighty, then my belief has been strengthened. You've got to say I'm a little wiser. My knowledge of the world is more profound," he said.