In the wake of its highly acclaimed coverage of the presidential election campaign, CNN is redeploying some of its Washington-based correspondents in preparation for the new Obama administration and the incoming 111th Congress.
"During the election, CNN's political reporters established themselves as the class of television news, both cable and broadcast," said David Bohrman, CNN's senior vice president and D.C. bureau chief. "Now we're positioning them in key roles that will ensure the most thorough and informative coverage as President Obama and Congress tackle the thorniest problems America has faced in our lifetimes."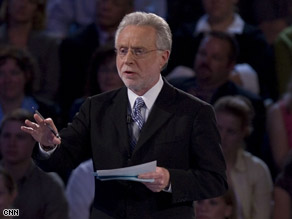 CNN's Wolf Blitzer will continue to anchor political coverage through the next election.
The changes come on the heels of the announcement that CNN's lead political anchor Wolf Blitzer will remain with the network through the next presidential election cycle and chief national correspondent John King will anchor a four-hour programming block on Sundays starting in January.
Read the rest of this entry on How CNN covers Obama's Administration, Democratic Senate and the Congress »