Now this is very important. Why, I don't know. May be you tell me...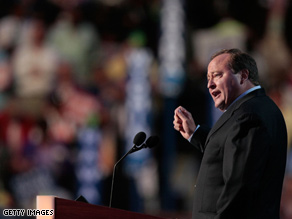 Schweitzer will chair the DGA.
WASHINGTON (CNN) – The Democratic Governor's Association announced Wednesday that Montana Gov. Brian Schweitzer will take over as the group's chairman, replacing West Virginia Gov. Joe Manchin.
Schweitzer, a bolo tie-wearing moderate who handily won a second term as governor in November, was elected at the DGA's annual winter meeting, with Maryland Gov. Martin O'Malley winning the post of vice-chair.
Both men have taken active roles in the DGA, and each said they look forward to working with President-elect Obama as a partner.
The Montana governor is perhaps best known nationally for delivering an electrifying speech to the Democratic National Convention in August, stealing the show on a night when former Virginia Gov. Mark Warner was supposed to be the headliner, but delivered a relatively lackluster keynote address.