Unofficial sources from Minnesota reports that
Al Franken will win the election. Number of news papers, some of Coleman favors, also reports that Franken will win by around 80 or so votes. This would be a great mile stone for Barack and the incoming Administration.
If auto bailout were to be taken in to consideration, only one republican voted for it. Others voted against. And, of course, all democrats agreed to the bail out as well. However, as we all know, senate did not passe it because it did not get 60 votes to put it over the top.
If the same scenario were to taken place in the new senate, in 2009, the bailout would be passed with exactly 60 votes because, with the support of Franken and the one republican who voted for it, there will be 60 votes.
In other words, 59 democratic votes + the only republican with common sense = over the top.
Therefore, we all need your support to Franken over the top now before we put the 60 votes over the top
Here is a report on Minnesota Senate Race from the Huffington Post:
The intense scrutiny of "voter intent" resumed this morning by a five-member board charged with directing Minnesota's recount in the U.S. Senate race between incumbent Republican Norm Coleman and Democratic rival Al Franken, and the first rush of ballot rulings has unofficially put the challenger in the lead.
On Thursday, the State Canvassing Board reviewed Coleman's challenges of hundreds of Election Day ballots, and the day's work saw the unofficial margin between the candidates dwindle to within a handful of votes.
As the board, headed by Secretary of State Mark Ritchie, took up and rejected more Coleman challenges today, Franken pulled ahead in the opening minutes.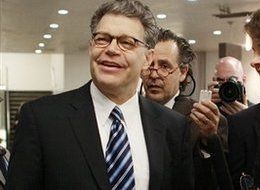 It's almost there baby. Oh yeh!
Franken's move to the lead was no real surprise, given that the vast majority of ballot challenges typically fail. On the previous two days, when the board examined challenges from Franken, most were rejected and Coleman gained.
On Thursday, the AP gave Norm Coleman a mere two-vote lead. Projections suggest Franken will win, but the race will most likely not be decided until next year. CNN reports that Gov. Tim Pawlenty (R) is "quietly prepping for the possibility of a temporary Senate appointment, given the increasing likelihood the nation's lone unresolved Senate contest might not officially come to a close before Congress convenes again next month."