Do you think this guy knows what he is talking about...
Microsoft founder Bill Gates told CNN Wednesday he hopes President-elect Barack Obama and Congress immediately craft a wide-ranging stimulus package to help jump-start the nation's sputtering economy, and double the United State's commitment to foreign aid.
"Clearly we need a stimulus that doesn't undermine the incentive for businesses to be careful about their spending and making those correct investments," Gates told CNN's Wolf Blitzer in an exclusive interview airing on The Situation Room Wednesday and Thursday.
Gates, among the world's richest men and founder of the Bill & Melinda Gates foundation, is also calling on the future commander-in-chief to increase investments in the nation's education system and spur technological advances to improve agriculture, prevent disease, and economic growth in the world's poorest nations.
"The key point I'd make is that in addition to that stimulus, you've got to fund the kind of scientific work and educational investments that could really have us be a much better country as we emerge from the recession," he said.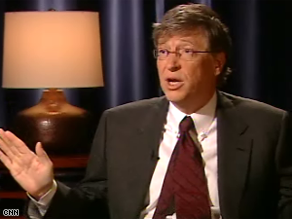 Gates is pressing Obama to double the United State's foreign aid commitment.