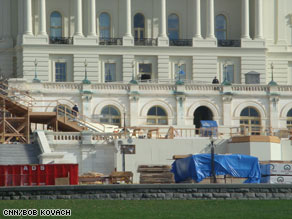 Inauguration preparations at the Capitol began before the Thanksgiving holiday.
Story Highlights
Planners looking into equipping National Mall with big screens, audio system

Some say an extravagant celebration would be out of place, considering economy

Planners expect private money will cover most of the costs

Inaugural committee has limited individual donations to $50,000
President-elect Barack Obama's inaugural planners have a difficult task on their hands: how to put together a celebration, given the tough economic times.
When it comes to planning the inauguration festivities, Obama's team is tight-lipped as ever, but insiders insist that the party will go on.
Obama inauguration spokeswoman Linda Douglass says the team is bracing for an estimated 3 million people in attendance. It is looking into putting big screen televisions and audio systems in the National Mall so everyone can take part in the events.
"These are tough times, and certainly we are mindful of the struggles that Americans are going through in their own lives right now," she said.
There's no way around it; the event will be big and expensive. For now, inaugural planners are staying mum on a price tag, but they expect that private money should cover most of the costs.
Those planning the event have to be careful to set the right tone. Past presidents learned that glitzy inaugural balls don't play well when Americans are struggling to make ends meet.
"It's not going to look particularly good for the president-elect and his team if Americans see limousine after limousine, fur coat after fur coat, at a time when just about everybody else is suffering," said Larry Sabato, director for the Center for Politics at the University of Virginia.
When Franklin D. Roosevelt took office, he also faced a financial crisis. He gave voters a now famous pep talk about the failing economy and then skipped the fancy inaugural balls because they sent the wrong message.
But analysts say Obama's not expected to go that far, because so many people want to celebrate his historic win.
"I'm not sure that you do tone it down," said Jamal Simmons, a Democratic strategist. "Based upon the way his campaign was run, I think the president-elect wants to open the inaugural events up to as many people as possible."
Mindful of the country's mood, Douglass says, there are new limits on donations to the inaugural fund.
The inaugural committee for Obama and Vice President-elect Joe Biden has pledged to make sure the ceremony underscores the incoming administration's "commitment to change business as usual in Washington."
Obama has promised to "take power away from the corporate lobbyists," a pledge that would be questioned should the president-elect rely on them to foot his inauguration bill.
"No money from corporations, no unions, no money from lobbyists," Douglass said.
The Presidential Inaugural Committee has limited individual contributions to $50,000. There is no law restricting the size of donations, but in the past, inaugural committees have set contribution limits as high as $250,000.
The committee said it will not take contributions from corporations, political action committees, current federally registered lobbyists, non-U.S. citizens or registered foreign agents.
Watchdog groups say there are some things Obama can do to take control of the tone of the celebrations. For example, he could make donations to charity, and Michelle Obama could opt for something more reasonably priced than a designer dress.