With the dust still settling from the 2008 presidential race, one of its biggest celebrities lashed out Tuesday at the man who made him famous.
Joe "The Plumber" Wurzelbacher, the Ohio voter who challenged President-elect Barack Obama on his tax plan and later became a hero of John McCain's presidential bid, said Tuesday he felt "appalled" at some of his interactions with the Arizona senator, and soon felt the need to ditch his campaign.
Speaking with conservative talk-radio host Glenn Beck, Wurzelbacher said he was specifically at odds with McCain's support over the massive $700 billion bailout, a measure many conservatives opposed despite McCain's attempts to shepherd the bill on Capitol Hill.
"When I was on the bus with him, I asked him a lot of questions about the bailout because most Americans did not want that to happen," Wurzelbacher told Beck. "I asked him some pretty direct questions," he continued. "Some of the answers…they appalled me, absolutely. I was angry.
"In fact, I wanted to get off the bus after I talked to him."
Wurzelbacher rocketed to stardom during the third and final presidential debate, when McCain referenced the Ohio plumber's direct challenge of Obama's tax proposals. On an Obama campaign swing shortly before that debate, Wurzelbacher approached the Democratic presidential nominee while cameras rolled and challenged the candidate over his plan to raise taxes on those making over $250,000. Wurzelbacher said that could mean his taxes would go up if he ever achieved his goal of owning a plumbing business.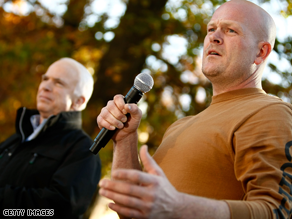 Joe 'The Plumber' Wurzelbacher said he was 'appalled' with some of what McCain said.