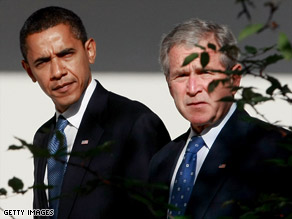 Obama met with Bush at the White House last month.
WASHINGTON (CNN) – President-Elect Barack Obama offered praise for at least one aspect of President Bush's foreign policy Monday, during videotaped remarks to the Saddleback Civil Forum on Global Health hosted by Pastor Rick Warren.
"I salute President Bush for his leadership in crafting a plan for AIDS relief in Africa and backing it up with funding dedicated to saving lives and preventing the spread of the disease," Obama said. "…My administration will continue this critical work to address the crisis around the world."
The taped message was part of a forum marking the 20th anniversary of World AIDS Day.
Under the Bush administration, more than two million people suffering from HIV/AIDS – most living in Africa — have received life-saving antiretroviral treatment as part of PEPFAR, the President's Emergency Plan for AIDS relief. In July, the President signed legislation reauthorizing the program and authorizing up to $48 billion to expand it.