Former Vice President Al Gore is set to meet with President-elect Barack Obama and Vice President-elect Joe Biden Tuesday.
According to the Obama transition office, the meeting will focus on energy and climate change positions, and how the new administration's environmental policies spur job creation.
Al Gore endorsed Obama for presidency in June in Michigan. That endorsement particularly helped Obama win the northern Midwestern states like Michigan, Minnesota, and Wisconsin.

During the general election, Al gore also campaigned for Obama in imporant battleground states like Florida, and reminded all voters how a few number of votes can determine the outcome of an election, and even possibly, how it could detemine the progress of the decade.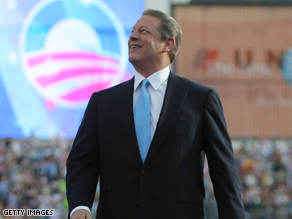 Gore is meeting with Obama Tuesday.