President-elect Barack Obama nominated Rep. Hilda Solis for secretary of labor on Friday, a move praised by labor unions. She is a four-term Democratic congresswoman from Los Angeles, California.
He also nominated Republican Rep. Ray LaHood of Illinois as transportation secretary, venture capitalist Karen Mills to head the Small Business Administration and former Dallas Mayor Ron Kirk to serve as U.S. trade representative.
Obama said he is "confident the department of labor will stand up for working families" under Solis' watch.
"[She is] blazing new trails every step of the way," he said.
"I am humbled and honored," Solis said. "As secretary of labor I will work to strengthen our unions."
Friday's press conference comes just hours before Obama heads to Hawaii for a vacation with his family.
Labor unions and political observers praised Obama's selection to head the Labor Department.
On Friday, Harold Meyerson, editor at large of the American Prospect, wrote an op-ed piece in the Los Angeles Times praising Solis' experience with labor issues in her Los Angeles district.
"[She's] a product and champion of the labor movement, a staunch environmentalist, an ardent feminist and one of the gutsiest elected officials in American politics. Solis personifies the best of the new Los Angeles," he wrote.
Andy Stern, president of the Service Employees International Union, said in a press release Thursday: "The daughter of two immigrant workers and union members ... she will be a secretary of labor working men and women can finally count on to stand up and fight for them.
Obama has enjoyed the support of organized labor since the campaign season, when the AFL-CIO, the nation's largest labor organization, endorsed him for president, calling him "a champion for working families."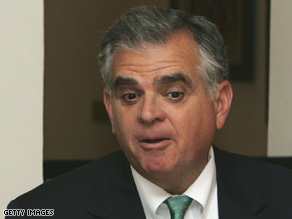 Illinois Rep. Ray LaHood, a Republican, is nominated to be the nation's next transportation secretary.
As a senator, Obama co-sponsored the Employee Free-Choice Act, which was designed to make it easier to create unions in the workplace. Supporters of the plan, including the AFL-CIO, said it would increase the number of union members in the United States and lead to better wages and benefits for workers.
If confirmed, Solis would be the third Hispanic to serve in Obama's Cabinet, along with New Mexico Gov. Bill Richardson, who is Obama's choice for secretary of commerce, and Colorado Sen. Ken Salazar, who Obama tapped to be secretary of the interior.
Obama had been criticized by some Latino groups who said Hispanics were not being picked for key Cabinet positions after Richardson was passed over for secretary of state. Instead, Obama picked his former rival, Sen. Hillary Clinton, to be his top diplomat.
Solis served eight years in the California legislature and also worked in former President Jimmy Carter's administration. Solis unseated former Rep. Matthew Martinez in a bitter Democratic primary in 2000.
Also Friday, Obama fulfilled a promise by naming LaHood as his choice to head the Transportation Department. Obama has also decided to keep President Bush's secretary of defense, Robert Gates.
Obama said LaHood has "fought to improve mass transit and our highways."
"I said I was committed to finding the best person for the job regardless of party," he said.
LaHood, a seven-term congressman from Peoria, Illinois, is respected on Capitol Hill, and his appointment as transportation secretary was hailed by both sides of the aisle.
Fellow Illinois Republican Rep. Tim Johnson welcomed the selection of LaHood, who he calls one of his closest friends in Congress.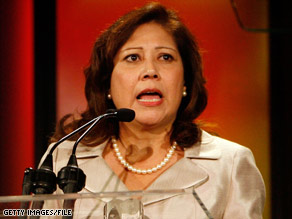 Rep. Hilda Solis is viewed as a strong advocate for working men and women by organized labor.
"I think Ray has the ability to work both sides of the aisle well," Johnson said. "He's an extraordinarily talented legislator."
A Democratic House colleague from Illinois, Rep. Jan Schakowsky, also praised the selection.
"He's a bipartisan guy," she said. "He's well-liked and respected."
But Politico.com's Jim VandeHei told CNN that LaHood is "interesting because it's sort of saying this is my bow at bipartisanship."
"But the truth is in Congress, he was the Republican that irritated Republicans most because he was always belly aching about the performance of Republican leadership and Republican orthodoxy. So that won't soothe a lot of his Republican critics," VandeHei added.
LaHood, 63, represents the Illinois district that includes the counties represented by Abraham Lincoln when he was a representative from 1847 to 1849. He is a member of the influential House Appropriations Committee.
There was mixed reaction on news that Dallas' former mayor Ron Kirk would be selected as U.S. trade representative.
Kirk, 54, served Dallas from 1995 to 2001.
Thea Lee, policy director for the AFL-CIO, told the Dallas Morning News that Kirk is "not our first choice."
Mickey Kantor, the country's trade representative during the Clinton administration, also told the Dallas newspaper that Kirk is "an incredibly impressive guy. ... You've got to understand both substance and politics to be successful, and he certainly understands trade, being from Texas."
News that Mills is slated to be Obama's next Small Business Administration head was met Friday with praise.
Mills is currently president of MMP Group in Brunswick, Maine. She was a founding partner of private equity investment firm Solera Capital in New York. Her appointment will be subject to confirmation by the Senate.
House Small Business Committee Chairwoman Nydia M. Velázquez, D-N.Y., was quick to praise the nomination.
"President-elect Obama's decision to name an SBA administrator so early in the transition is a good sign for small businesses," she said. "This appointment shows that his economic team recognizes the key role that small firms play in job creation and the need to take quick steps to revitalize the agency's role in spurring growth."