Okay that means that people, especially those who desperately needed change during the campaign trail, really give him a chance first. It's up to him to capture the movement. I am 100% confident that Obama will be a better president than George Bush. And of course Biden will be a better Vice President than Dick "dick without" Cheney.

Robert Gates, though, I think he better change (yeh change) is view on Iraq. Otherwise, with the new Obama's Foreign Policy Team of rivals, we might have the previllage to witness WW III - not I Europe. But right here in the White House.

Hay, If can World War out this crisis, like happened in 1939, at least GM and the Big Three won't have to beg for money.

Here is the Story...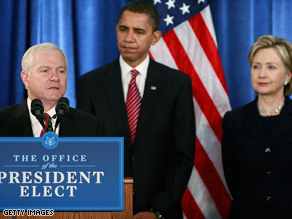 Americans are happy with Obama's Cabinet choices so far.
A new national poll suggests that Americans think President-elect Barack Obama's getting it right when it comes to his Cabinet picks, especially when it comes to Hillary Clinton and Robert Gates.
Seventy-five percent of those questioned in a CNN/Opinion Research Corporation survey approve of Obama's Cabinet choices, with 22 percent disapproving. That's 16 points higher than those in favor of then President-elect George W. Bush's Cabinet picks eight years ago.
The poll indicates that 71 percent approve of Obama's nomination of Clinton, the senator from New York, as his secretary of state. Democrats overwhelming approve of the choice, with two-thirds of independents agreeing and Republicans split on the pick.
Clinton and Obama were rivals for the Democratic presidential nomination during the very long and bitter primary season and the two didn't see eye to eye on some major international issues.
But the poll, conducted Monday and Tuesday, suggests that when Clinton and Obama disagree, Clinton won't go rogue.
"Will Hillary Clinton or Bill Clinton try to push their own foreign policy agenda? Americans say no,"states CNN Polling Director Keating Holland.
Fifty-seven percent say that Clinton will follow Obama's policies rather than her own when she disagrees with the president and 54 percent think that her husband, former President Bill Clinton, will stay out of U.S. foreign