Story Highlights
Lawmakers have suggested short-term loan, bailout funds or even bankruptcy

Barack Obama has said he must "wait and see" what happens at auto hearings

CEOs of Big Three trying to make their case for $34 billion loan

Source says Democratic leadership will not do something Obama opposes
President-elect Barack Obama has kept a relatively low profile as automakers plead for billions from Congress, but behind the scenes, the incoming administration is working hard on finding ways to ease the crisis.
Obama and his advisers are studying options for helping the automobile industry beyond what Congress does or doesn't do before he steps into office.
Talks on the Hill have included mention of a possible short-term loan for the auto giants to act as a Band-aid until lawmakers can hammer out legislation with a long-term plan when the new Congress begins next year. Other lawmakers have suggested that bankruptcy could be a good thing for the automakers.
CEOs for the Big Three are trying to make their case for a $34 billion loan.
Despite what may happen in the coming weeks, there's no indication that the problem will be solved before Obama steps into office.
While the president-elect has largely stayed mum on the issue, he has signaled that one option is off the table.
"We can't allow the auto industry simply to vanish," Obama said last week.
The president-elect said Wednesday that he wanted to "wait and see" what is said during the bailout hearings.
"I don't think he necessarily wants to get drawn in -- I wouldn't blame him -- to a situation that he cannot really effectuate," said Sen. Christopher Dodd, D-Connecticut, chairman of the Senate Banking Committee.
Before Election Day and continuing after, Obama's staff has been in touch with auto executives, industry sources said. One source suggested the nature of these conversations were "informational ... about [our operation], how and where we spend ... our forward-looking goals."
The talks are tacit recognition that the incoming administration believes whatever Congress does is likely to be a stopgap to keep one or more of the Big Three -- which includes Chrysler, Ford Motor Co. and General Motors Corp. -- from going under. Obama's public talk and the private work of his team are aimed at more comprehensive assistance tied to viability.
Obama said last month that he's made it a "high priority" for his transition team to work on additional policy options for the auto industry.
Industry sources said there has been no talk of specific long-term legislation. In terms of the immediate future and what Capitol Hill can do, Obama has not said much largely because, right now, he cannot do much. There's risk in putting capital on the line before he becomes president.
Obama has been supportive of backing loans to the Big Three, but he's been careful not to put public fingerprints on how much they should get or from where the money should come.
A spokesman for Senate Majority Leader Harry Reid, D-Nevada, said that following Thursday's testimony by the CEOs, two things were clear.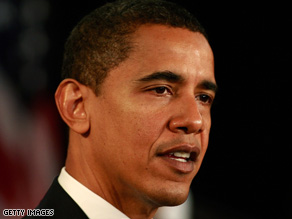 President-elect Barack Obama and his advisers are studying options to deal with the auto industry.
"First, that bankruptcy is not an option. It would be irresponsible to allow these companies to fail in light of the very possible catastrophic consequences under the current economic conditions. And second, the American people will not stand for giving Detroit a blank check," spokesman Jim Manley said.
Reid, Dodd, House Speaker Nancy Pelosi and Rep. Barney Frank have called on President Bush to help the auto industry by using $25 billion of funds from the Troubled Asset Relief Program, or TARP, the $700 billion measure that passed in October to help bail out financial institutions.
The White House has said it wants to help the auto industry "if [the industry] can show a viability plan that passes the test to get taxpayer money," but said TARP was not intended for that purpose.
"They can't get congressional support for their idea to use the TARP money, so they want us to do it instead. And this is leadership? Not only that, they invited the automakers here to testify and before they even pulled off the highway put up a roadblock and said they wouldn't be able to help them anyway. There's a way to help the automakers, and we've shown them how to do it," White House spokeswoman Dana Perino said.
Capitol Hill sources said the Obama team at many levels has discussed the bailout, including talks between the president-elect and congressional leaders.
Sources have declined to discuss the specifics of those conversations, but one Capitol Hill source insisted that the Democratic leadership is not going to do something the president-elect opposes.