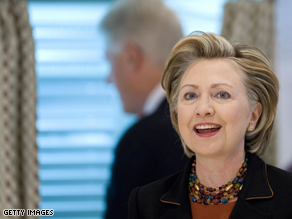 Clinton's looming exit to be Obama's secretary of state means a scramble for her old job.
(CNN) – The scramble to replace Hillary Clinton on Capitol Hill was well underway by the time President-elect Obama officially nominated her Monday morning. Among those mentioned to to take her seat as New York's junior senator: her husband, former President Bill Clinton.
Sen. Clinton said at the Monday event announcing her nomination that she wanted to "thank my fellow New Yorkers who have, for eight years, given me the joy of a job I love with the opportunity to work on issues I care deeply, in a state that I cherish."
She added that "leaving the Senate is very difficult for me."
The task of choosing a successor to Clinton will be just as tough.
That job falls to David Paterson, New York's Democratic governor. Whomever he picks would serve for two years, before a special election would be held in November 2010 to decide who fills out the last two years of Clinton's term.
Paterson — who has already taken himself out of the running — has a strong bench to choose from.