Vice president-elect Joe Biden said Tuesday that the transition team's failure to consult with incoming Senate Intelligence Committee chair Dianne Feinstein about the decision to tap Leon Panetta as head of the CIA had been a "mistake."
Biden also responded to criticism Panetta lacked the necessary intelligence experience to serve as CIA director, telling reporters on Capitol Hill the former Clinton administration official is "totally qualified for this job."
"He's been a consumer of intelligence for a long time. He was chief of staff. He understands the agency well," said Biden. "What the agency needs now is a strong figure who understands how it functions and is going to take it up on a new path re-establishing its…. It's an incredibly important agency. It has suffered some, much of it not its own fault, a loss of credibility in a lot of corners."
But he said the team should have spoken with Feinstein about the pick. The California senator issued a blistering statement yesterday about the choice after apparently learning about Panetta's selection from a media report. "I'm still a Senate man. I always think this way. I think it's always good to talk to the requisite Members of Congress," Biden said Tuesday. "I think it was just a mistake."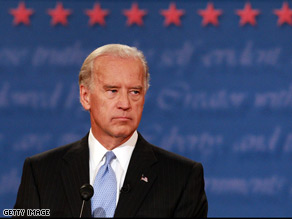 The VP-elect says CIA director pick Leon Panetta is totally qualified for the job, but admits the failure to consult with Feinstein about the appointment was a mistake.
Update: A transition aide told CNN's Ed Henry that the president-elect "had very good conversations with both Senator Rockefeller and Senator Feinstein. They shared views about the future direction of intelligence and their desire to consult closely on these issues."
Earlier Tuesday, Feinstein released a statement saying she had been contacted by both Obama and Biden, and that they had "explained to me the reasons why they believe Leon Panetta is the best candidate for CIA Director. …I look forward to speaking with Mr. Panetta about the critical issues facing the intelligence community and his plans to address them."