Minnesota senate race is finally over. Despite the false and negative attacks from Norm Colmans' campaign, launching dirty and bias websites like MinnesotaRecount.com, the Democrat Al Franklen won the race.
Now, in fact, Democrats have 59 senate seats. If the auto bailout were to through into this senate, it will be passed by now because one republican voted for it. With that only republican who had common sense and 59 Democrats, it will give 60 votes. Numbers don't lie
Here is the news reported by CNN at 5.05 pm on Sunday January 4th 2008
A state election board on Monday will announce Democrat Al Franken as the winner of the Minnesota Senate race, defeating Republican incumbant Norm Coleman, state officials told CNN Sunday.
Secretary of State Mark Ritchie told CNN the canvassing board on Monday will confirm that Franken won the race by a 225-vote margin.
Deputy Secretary of State Jim Gelbmann oversaw the tallying of roughly 950 improperly rejected absentee ballots Saturday, which was the last remaining
hurdle in the canvassing board's procedure. He said no outstanding challenges
remain and that the only thing left for the board to do Monday is certify the
numbers. Their meeting will convene at 2:30 p.m. (3:30 p.m. ET).
Franken's attorney, Marc Elias, in a statement said, "We've said all along we're taking this one step at a time. The next step is the canvass board's meeting tomorrow, where we have every expectation they will declare that Al Franken won this election."
Coleman campaign manager Cullen Sheehan said his team believes that the recount process was broken and that "the numbers being reported will not be
accurate or valid."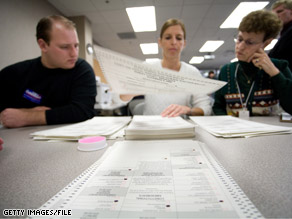 CNN has learned that a state board in Minnesota overseeing a recount in the razor-thin Senate race will declare Democrat Al Franken the winner Monday
"The effort by the Franken campaign, supported by the Secretary of State, to exclude improperly rejected absentee ballots is indefensible and disenfranchises hundreds of Minnesota voters."
The Coleman campaign will have seven days after the board and Ritchie certify results to file a post-election contest, which they have indicated they will do.
Coleman's attorneys have maintained there was no uniform standard for local officials to follow in identifying improperly rejected absentee ballots to count. They had identified about 650 more ballots that were not in the mix because all parties could not agree on them.
The Coleman campaign has also alleged that more than 100 ballots may have been accidentally counted twice and may have unfairly benefited Franken.
"When a candidate is leading because of double counted votes, and votes that get counted even when ballots don't exist, it clearly means that a contest is the only likely remedy to ensure a fair outcome," Sheehan added.
New York Sen. Charles Schumer, chairman of the Democratic Senatorial Campaign Committee, issued a statement Sunday declaring Franken the winner and expressing confidence he would still remain on top even after any legal battles that may follow.
"There is no longer any doubt who will be the next senator from Minnesota," Schumer said. "Even if all the ballots Coleman claims were double counted or erroneously added were resolved in his favor, he still wouldn't have enough votes to win."
He also said it is "crucial" Minnesota's second seat in the senate not go empty, implying Franken should be seated when the rest of the Senate convenes to be sworn in Tuesday.
Republican Sen. John Cornyn of Texas, the chairman of the National Repulican Senatorial Committee, has pledged a GOP filibuster if the Democratically-controlled Senate attempts to seat Franken before all legal battles play out and before Minnesota's Republican Governor Tim Pawlenty can co-sign the Secretary of State's certificate.
Ritchie said the state has no problem with not having two sworn-in senators Tuesday until the process is completed.