We already stated the importance of the Minnesota senate recount. To read that, go to
http://barackobama-2012.blogspot.com/2008/12/franken-passes-coleman-in-recount-for.html
Minnesota's Supreme Court kept the door open Friday afternoon for another possible intervention in the state's still unresolved U.S. Senate race between incumbent Republican Sen. Norm Coleman and Democrat Al Franken.
Coleman's campaign is requesting that the court hear arguments that no uniform standard or guidelines are being followed in how improperly rejected absentee ballots are added to the recount.
The court Friday asked the Franken campaign, the secretary of state's office, and seven counties to supply any response to the Coleman campaign's petition by Saturday morning.
Local officials have identified about 1,350 ballots that might have been rejected in error. Coleman's campaign had attempted to add about 600 more ballots to that pile, but since the two campaigns did not agree on these added ballots, they will not be counted now.
An earlier high court ruling mandated that no ballot could be counted unless local officials and each campaign agreed that the ballot had been rejected in error.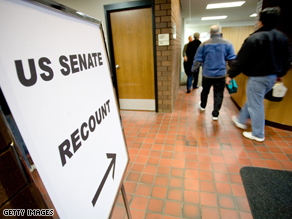 The result of the Minnesota Senate race remains unclear.
The Franken campaign has said it simply wants to count the ballots the local officials have already identified and leave it at that.
Franken currently holds a slim lead of about 50 votes, but the improperly rejected absentee ballots have yet to be included in the tally. Those are expected to be in the mix by early next week.