Inaugural parade tickets sell out in minutes

: CNN
The 5,000 tickets for prime parade viewing spots on Pennsylvania Avenue that went on sale at 1 p.m. Friday were all claimed within minutes, according to the Presidential Inaugural Committee. Some additional seats are being awarded to local students and parents who participated in a committee-sponsored essay contest.
Update: All 5,000 tickets actually sold in less than a minute, Ticketmaster Vice President of Strategic Communications Albert Lopez told CNN's Eric Weisbrod — one of the company's fastest sellouts ever.
Obama, Biden inaugural luncheon details released
The Presidential Inaugural Committee announced Friday that the 2009 Inaugural Luncheon will take place in the Statuary Hall in the Capitol and celebrate the bicentennial of the birth of President Abraham Lincoln, following the swearing-in ceremony of President-elect Barack Obama and Vice President-elect Joe Biden.

In keeping with the theme, meals will be served on replicas of china used during the Lincoln presidency, boasting the American bald eagle and the U.S. Coat of Arms.

The menu is inspired by the era of Lincoln's presidency and features courses of seafood stew, pheasant and duck with sweet potatoes and chutney, and apple cinnamon sponge cake for dessert. Carefully-selected wines and champagne will be served to compliment the flavors of the luncheon courses.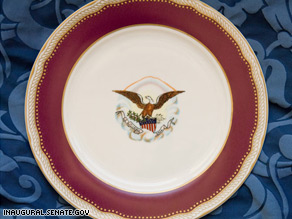 Meals will be served on replicas of china used during the Lincoln presidency.

Aside from the feast, the event features toasts to the new administration, presentations of gifts given by Congress on behalf of the American people, various speeches, and music by the Smithsonian Chamber Players – an ensemble known for its performances of period music played on instruments from the museum's collection.

The inaugural luncheon tradition dates as far back as 1897, when one was held in honor of President McKinley and the U.S. Capitol, though the current practice began in 1953.
Obama's mother-in-law to live in the White House
Three generations of the new First family will move into the White House on Inauguration Day.
The Obama transition confirmed to CNN Friday that Marian Robinson, Michelle Obama's mother, will live in the White House for several months while she decides if she wants to make a permanent move to Washington.
Robinson retired from her job as a bank secretary to help with the care of her granddaughters during the presidential campaign.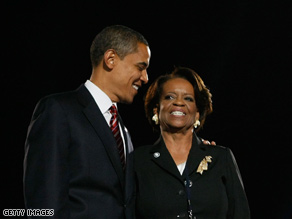 Robinson, with son-in-law Barack Obama on Election Night.
She wouldn't be the first Robinson presidential mother-in-law to live on the White House grounds
for at least some length of time. Other mother-in-laws — most notably, Harry Truman's — have lived for a time on White House grounds.