Barack Obama spent his last full day as president-elect visiting wounded soldiers and exhorting Americans to spend more time in the service of others.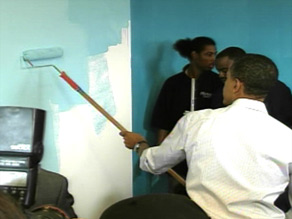 President-elect Obama rolled up his sleeves before painting a wall at a shelter.

With only hours to go before assuming the nation's highest office, he began Monday morning with a surprise visit to wounded soldiers at Walter Reed Army Medical Center. He met with 14 patients injured in either Iraq or Afghanistan.
Obama then visited a National Day of Service project, stopping by the Sasha Bruce House, an emergency shelter for homeless teenagers in the District of Columbia area.
The shelter provides a variety of services -- including counseling, job training, and substance abuse prevention assistance -- for up to 15 teenagers at a time.
Roughly 30 teenagers are spending the Martin Luther King Jr. holiday volunteering at the shelter by helping to renovate a dorm room.
Obama rolled up his sleeves and pitched in during the visit, using a roller to help paint a couple of walls and a piece of furniture.
He also quoted King to the teenagers, noting that "everybody can be great [because] everybody can serve."
"Don't underestimate the power of people who join together to accomplish amazing things," Obama added. Given the crisis America is currently in, "we can't allow any idle hands. Everybody's got to pitch in."
Obama also cited the heroics of U.S. Airways pilot Chesley Sullenberger, who safely landed a crippled commercial airliner in the Hudson River last Thursday, saving the lives of all 155 people on board.
"If everybody did their job as well as he did [his] job, we would be in pretty good shape," Obama said.
Obama has personally invited Sullenberger to the inauguration.
Obama later joined Vice President-elect Joe Biden at a high school where students were making blankets and greeting cards, among other things, for soldiers overseas.
Speaking to the students, Obama again invoked King's memory, noting that the slain civil rights leader had "dedicated his life to working at the grass-roots level ... on behalf of justice and equality."
"I am making a commitment to you, as your next president, that we are going to make government work," the president-elect declared. But, he warned, "government can only do so much. If we're just waiting around for someone else to do it for us ... it never gets done. We're going to have to take responsibility, all of us."
Incoming first lady Michelle Obama, joined by Jill Biden, the wife of the vice president-elect, spent the morning at a separate volunteer service event at RFK Stadium, where people were assembling care packages for soldiers currently serving in Iraq and Afghanistan.
Martin Luther King Jr. Day is traditionally viewed as a day to encourage greater volunteerism.