President-elect Barack Obama strode down the platform with his family, greeted the conductor, and boarded the Philadelphia train bound for Washington, an ordinary scene that belied the extraordinary significance of the ride.

The 137-mile journey from Philadelphia, Pennsylvania, to Washington, D.C. -- where Obama takes the oath of office Tuesday -- retraces the train route taken by his hero Abraham Lincoln as he traveled to assume the presidency in 1861.
Obama's train stopped in Wilmington, Delaware, to pick up Vice President-elect Joe Biden. Both men spoke to a cheering crowd before leaving. The train is also stopping in Baltimore, Maryland.

The themes he wants to fit here are not just, "We need to get that spirit of patriotism, and we need to go back to what our forefathers believed in." He also said at the end of his speech let's make sure this election is not the end of what we do to change America, but the beginning.
So it's the sort of commonality -- I'm going to need you -- and certainly he is, even though out there if they are not people who vote on Capitol Hill, they are certainly people who can pressure Capitol Hill.
And as he looked ahead and talked about the frustrations and the setbacks that are coming, he wants this train ride to begin that role and say, "I know the election is over, but you [have] got to stick with me because I need it."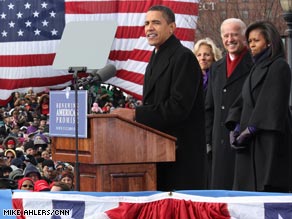 President-elect Barack Obama speaks Saturday during his stop in Wilmington, Delaware.
So it's a dual trip, a little history and certainly pushing very far into the future.
JASON CARROLL IN PHILADELPHIA: President-elect Obama kicked off his whistle-stop tour to the nation's capital in the City of Brotherly Love. Watch Obama board the train Some 200 invited guests were on hand at the 30th Street Station. What was immediately clear after speaking to a number of them was that they weren't sure why they had been chosen to be invited. Others had a pretty good idea.
Heather Wehr and Talia Kasic, two 20-year-old Obama volunteers, told me they were chosen because they had volunteered on the campaign in its early stages.
Chosen to accompany the Obamas were 51 people, including 16 families from 15 states. Mark Dowell, a third-generation autoworker from Louisville, Kentucky, believes he was chosen because he had spoken with Obama about surviving in the auto industry.
In his speech Obama explained why he was bringing the group on the tour, saying, "I will be taking with me some of the men and women I met along the way. Americans from every corner of this country, whose hopes and heartaches were the core of our cause, whose dreams and struggles have become my own."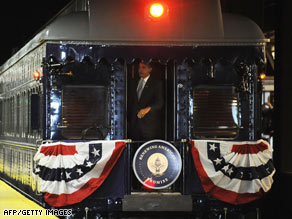 Obama looks out from the back of his train as it departs Saturday from Philadelphia.
One of the more excited people was 6-year-old Victor Cozzone from suburban Philadelphia, who was able to shake the next president's hand. Victor said he was hoping to give the next president a fist-bump.
CANDY CROWLEY ABOARD THE OBAMA EXPRESS: Our first minor glitch happens as we detrain in Wilmington. Seems we -- the media -- broke free without "handlers." This tends to upset the Obama people.
As Obama talks, a line of Secret Service agents walks by me really quickly. I, of course, follow. Turns out people whose line of sight to Obama was blocked by other people have climbed into the leafless trees. That's a Secret Service no-no.
These bystanders are now back on the ground.
DAN LOTHIAN IN WILMINGTON: Thousands of people, some showing up at 4:30 a.m., were at the Wilmington train station to hear Obama and Vice President-elect Joe Biden.
There is no exact count on the crowd, but capacity is 20,000.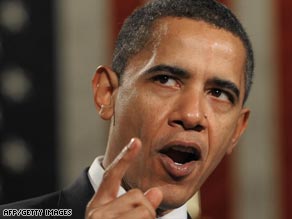 Obama speaks Saturday at a town hall meeting in Philadelphia before boarding the train.
This is the stop where Biden and his family will board the train. Biden and Obama will speak for an hour. Watch Biden greet Obama as the president-elect arrives in Wilmington People have braved 7-degree temperatures; it is now 23, but many tell me, "This is a once-in-a-lifetime event that we couldn't miss."
This location is also symbolic because it is in Tubman-Garrett Park, named after Harriet Tubman and Thomas Garrett, who did so much to help slaves.
DAN LOTHIAN IN WILMINGTON: Vice President-elect Joe Biden and his wife, Jill, arrived first and received a warm reception from a crowd of thousands, some of whom had been waiting for more than eight hours in the cold. He was introduced by the train's conductor as "Amtrak's No. 1 commuter."
Biden reminded the crowd that he has made the Amtrak commute to D.C. for decades and how Jill will now have to get used to him being at home at 7 a.m. She no longer will see him off to the train station in the morning and have that free time until his typical return at 8 or 10 p.m.
Biden joked that he will now be living in government housing.
The vice president-elect said that it's not every day that you get to ride the train with the next president of the United States.
Biden introduced Obama and his wife, Michelle, as the crowed roared. The entrance music sounded like a soundtrack from "Titanic." Obama came onstage first, waved around to the crowd as many took pictures or had pictures taken of them with Obama and Biden in background.
Then Biden walked over to the steps, extended his hand and helped Michelle onto the stage. Obama reminded the crowd that it was Michelle's birthday. Some members of the crowd started singing "Happy Birthday."
Obama spent a lot of time praising Biden and his sacrifice to country. He talked about Biden's tragedy of losing his first wife. And he talked about hope for the future.
After his speech, Obama waved, then worked the crowd as his detail scrambled to keep up.
The crowd was made up of all ages: The Ku'umba Academy dance group performed. There were senior citizens, young kids propped on shoulders. Blacks and whites. We noticed at least three people who had to be helped by paramedics and were taken away.