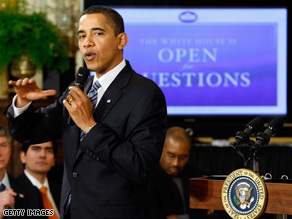 In an appeal to the tech-savvy public, the White House's Web site opened itself to Internet-submitted questions for President Obama's online town hall meeting Thursday morning.
The virtual meeting -- which was a new take on President Franklin Roosevelt's fireside chats -- reached out to online followers as Obama tries to rally an anxious country in support of his solutions to the economic crisis.
Obama began his address by trying to draw a clear line between what he sees as the political games of Washington and the actual needs of the American people.
"What matters to you and your families and what people here in Washington are focused on are not always" the same, he said, criticizing the winner-loser mindset of the politicians in the nation's capitol.
"This isn't about me, it's about you," he said. "It's about the families whose letters I read every single day, and, for the American people, what's going on is not a game."
After the call for questions closed at 9:30 a.m., more than 90,000 people had submitted more than 104,000 questions for the president. The questions largely focused on the economy but spread across several categories. Online users ranked the questions more than 3.6 million times, according to WhiteHouse.gov.
The idea that a president would want to talk directly to the American people has been around since the days of FDR, but what was new about Obama's online town hall is that it encouraged members of the public to interact with each other, said Julie Moos, director of Poynter Online, a nonprofit journalism site.

From CNN - http://www.cnn.com/2009/TECH/03/26/online.obama/index.html