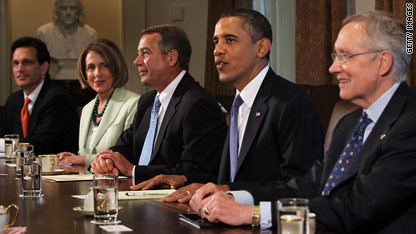 It was reported by CNN Politics last night that President Barack Obama got angry because the Republicans, Cantor, House Speaker John Boehner and others, agreed to a short-term debt limit plan. President Obama had said clearly in his press conference before that he would veto such a plan. As a result of Republicans changing their position, last night the debt negotiations came to an abrupt end.
A fourth straight day of talks intended to head off a possible government default ended on a tense note Wednesday, with House Majority Leader Eric Cantor saying President Barack Obama cut him off by saying "I'll see you tomorrow" before walking out.
"And he said to me, 'Eric, don't call my bluff.' He said 'I'm going to the American people with this,' " Cantor quoted Obama as saying.
"I was somewhat taken aback," Cantor said. When he continued to press the issue, Cantor said, Obama "shoved back from the table, said 'I'll see you tomorrow' and walked out."
A Democratic source familiar with the talks said on condition of not being identified that Obama cut off Cantor at the end when the Virginia Republican questioned the president for a third time on his opposition to a short-term extension of the federal debt ceiling.
Another Democratic source, also speaking on condition of anonymity, described the tone of the meeting as tense but constructive and said that at one point, Cantor was challenged on what the source called "talking out of both sides of his mouth."
Here are couple of videos outlining how things carried out during the debt negotiations inside the room:
From:
http://www.cnn.com/2011/POLITICS/07/13/debt.talks/index.html?hpt=po_t2