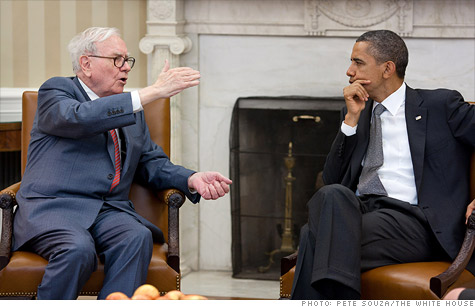 CNN MONEY reporters that billionaire Warren Buffett will host series of fundraisers for President Obama's re-election campaign at the Four Seasons restaurant in New York next month. Expect to see some high profile people taking part of the event.
The event will bring in a pretty penny for the campaign. The base price is $10,000, while a $35,800 donation will buy a VIP reception with Buffett, according to the schedule.
"My friends and I have been coddled long enough by a billionaire-friendly Congress. It's time for our government to get serious about shared sacrifice," Buffett wrote in his opinion piece on New York.
Mr. Buffett paid $6,938,744 in taxes last year.
"That sounds like a lot of money. But what I paid was only 17.4 per cent of my taxable income - and that's actually a lower percentage than was paid by any of the other 20 people in our office. Their tax burdens ranged from 33 per cent to 41 per cent and averaged 36 per cent," he responded.
"Americans are rapidly losing faith in the ability of Congress to deal with our country's fiscal problems. Only action that is immediate, real and very substantial will prevent that doubt from morphing into hopelessness," Mr. Buffett said.