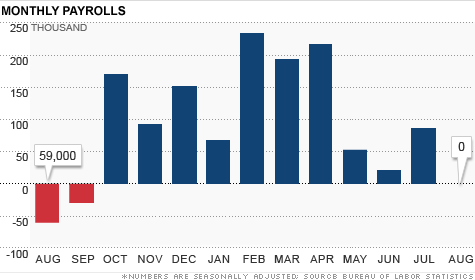 In the month of August, the US economy saw a growth of 0% - no jobs were added to the economy. This is yet another indication showing the rough summer we had to weather over past three months. Despite all that private sector payrolls increased by 17,000 jobs. That means the private sector has been adding jobs to economy for 18 straight months.
The report was partially helped by 22,000 state workers in Minnesota returning to work after a temporary government shutdown in July, but was also hurt by 45,000 Verizon workers on strike in August.
Republicans were the first to accuse President Barack Obama for the poor job growth over the summer. They didn't mention the tsunami in Japan or the Arab Spring that affected oil prices. And you know, Summer is generally hot and people usually stay home. That also a significant impact on the job growth.
RNC Chairman Reince Priebus put out a statement saying, "...[Obama] spent his summer fundraising and golfing, promising to lay out a jobs plan only after his Martha's Vineyard vacation-all while nearly 14 million Americans remained jobless." This guy never wakes up before noon, but today put this statement out before anybody even had the time to analyze it. He's a complete joke.
The republicans presidential candidates also took low-blow jabs at Barack Obama. Michele Bachmann said in a statement that doesn't make sense, "Mr. President – we gave you $2.4 trillion in new spending and the American people got nothing in return. Today's jobs report showing that the economy created no jobs in the last month and unemployment at 9.1 percent is further evidence that President Obama's failed economic policies are not working and have completely stalled job growth."