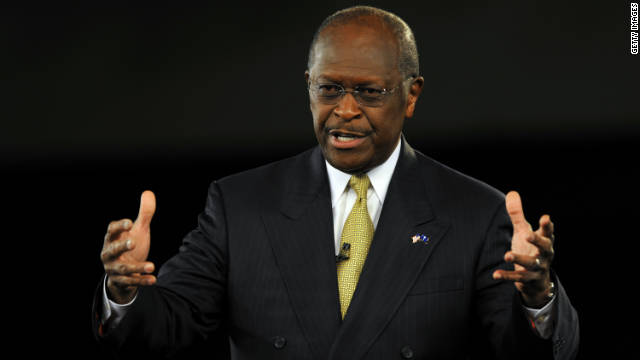 Herminator is clearly surging in the polls.
A CNN poll of polls indicates that former Massachusetts Gov. Mitt Romney is on top of the GOP field of candidates at 23%, and Cain is just three points behind. Texas Gov. Rick Perry, who was a front-runner in the national polls from late August through much of September, trails Cain at 14%. The CNN poll of polls is an average of the latest four national surveys in the GOP race. It was compiled and released Thursday,
Other polls indicate that Cain is in fact ahead of Romney. Conan O'Brain joked about this program by saying, "Americans don't understand Mormonism, but they do understand pizza." Cain also has is 9-9-9 plan. Even though that is not practical, it's good enough for the Republicans.
While "9-9-9" has put Cain at the center of the GOP's debate over the economy, it is perhaps too simple an explanation for Cain's recent rise.
"Herman Cain is surprising us all," Amy Kremer, chairman of the Tea Party Express, told CNN recently. Kremer quickly added that her organization is not ready to support a candidate yet and the tea party movement "hasn't really coalesced behind anybody."
"But," continued Kremer, "Herman Cain is doing a major thing right now. He's got a lot of momentum. A lot of people like him. He's a straight talker. He's a businessman. And that's what people like. He knows how to run a business. He knows how to create jobs. He knows about profits."