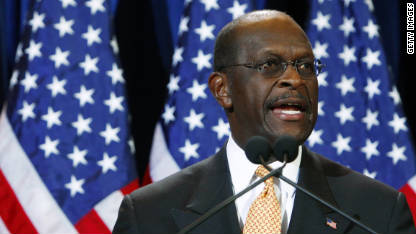 Obama, Barack Obama 2012,
Republican presidential candidate and front runner Herman continues to say no to all the allegations. "They simply didn't happen. They simply did not happen," Cain insisted of the accusations of inappropriate sexual behavior, and at least one incident of alleged sexual groping, when he was head of the National Restaurant Association from 1996 to 1999.
But Karen Kraushaar, one of the women who have made allegations, told CNN Tuesday night that Cain is a "serial denier." She declined direct comment on Cain's Tuesday remarks, but said she wanted to meet with the other accusers about their cases.
At a news conference he held to respond to the latest accusation, made Monday by Sharon Bialek, a Chicago woman who once worked at the restaurant group, Cain described her as a "troubled" woman put up to making false allegations by forces trying to derail his presidential bid.
Cain said it could be the "Democrat machine" behind the allegations but added that he didn't know for sure. He also said he expected further attempts to smear his name and reputation, and vowed that he would not be deterred.
"As far as these accusations causing me to back off and maybe withdraw from this presidential primary race? Ain't going to happen," Cain said.
partial source: http://www.cnn.com/2011/11/08/politics/cain-allegations/index.html